Harvey Prince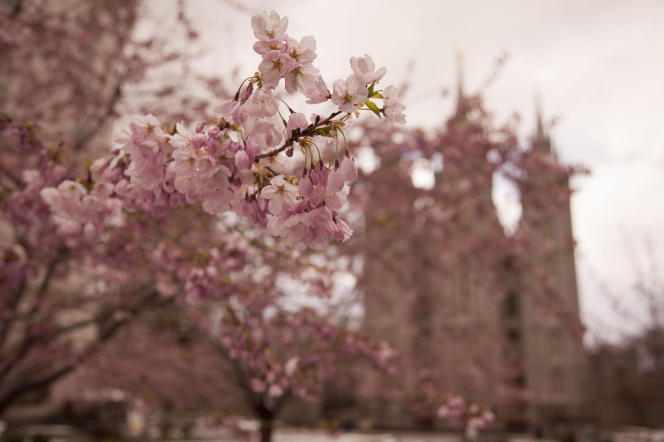 Cherry Blossoms at Temple Square: Downtown Salt Lake City
One thing I look forward to in the spring
is seeing
the cherry blossom trees in full bloom.
They are beautiful and really who doesn't enjoy smelling cherry blossom scent in the air.
Thats is why when I saw the opportunity to review Harvey Prince Cherie Blossom for free, I jumped at the chance. I was really excited and honored to be chosen by Birchbox from among my fellow Birchbloggers on twitter to review this new scent.
Harvey Prince Cherie Blossom - 50 ml 1.7oz.
Retails for $55 and is Made in the USA!
Harvey Prince Cherie Blossom contains notes of:
Somei Sakura (Cherry Blossom), Pink Grapefruit, Cool Musk, Vanilla
I adore the packaging, I studied graphic design in college and I truly do appreciate good design. The box is colored in black and their logo is highlighted in orange and black with a unicorn and carriage and their name, Harvey Prince. The box is not cluttered and the bottle was secured inside the box and included a foam square cut out at the top to hold the bottle in place during transport.
I was thrilled the glass bottle arrived safely.
The bottle itself has a nice clean design.
It is pretty simple and really does a wonderful job of letting the product shine.
No gimmicks here, it's all about the scent!
It has a screw top with a spray dispenser at the top.
Even though I jumped at the chance to review this. I am not a huge fan of perfumes.
I only own one other scent right now and I only wear it on super special occasions.
So Birchbox is doing its job nicely. It has gotten me a non-regular perfume wear to step outside of my comfort zone and really try a product I would never have even stopped to look at in a retail department store setting.
I am very picky about the scents I buy. It is not that I don't like scents, I seem to be very sensitive to scents and if a perfume is to strong I will get a headache. No one wants to feel bad, so really for me it is all about making sure I don't. That is the main reason I avoid wearing perfumes on a regular basis.
So how did I do with Harvey Prince Cherie Blossom and did I like it?
Just to be sure I wouldn't get to strong of a scent in my house, I went outside to apply this.
Birchbox recommends to spritz this on your pulse points, so I sprayed this directly in the air then placed my wrist into the spray area.
I wanted a much lighter application and t
hat worked like a dream.
I found Cherie Blossom to be a refreshing change from the other scent I wear.
It was refreshing and I can see why this was released in association with spring and cherry blossoms.
Turns out this hypoallergenic, cruelty-free scent works for me and it was not to overpowering for me.
If you have the opportunity to sample Harvey Prince Cherie Blossom, go for it.
My final thoughts, I really like it and I hope you do, too.